Özlem Günyol & Mustafa Kunt
The Image Without the Image
6th of Juni, 2019 - Summer, 2021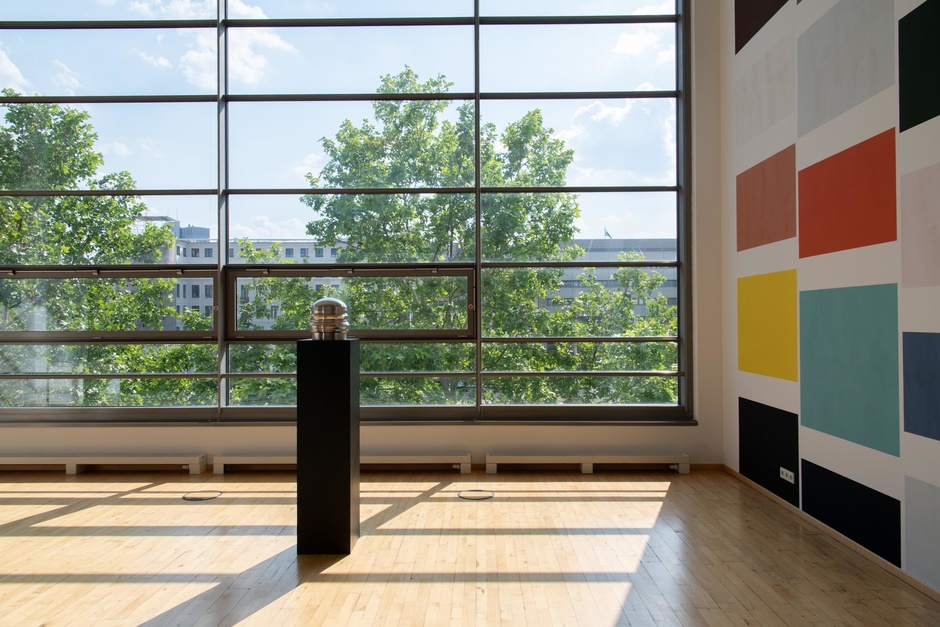 Der Kulturkreis der deutschen Wirtschaft zeigt die zweite Berliner Einzelausstellung des Künstlerduos Özlem Günyol & Mustafa Kunt (*1977/*1978). Für das Kunstfenster im Haus der Deutschen Wirtschaft haben Günyol & Kunt eine ortspezifische Arbeit entwickelt, die sich mit der politischen Einflussnahme rechtspopulistischer Parteien im Internet beschäftigt.
Die Ausstellung "The Image Without the Image" im Kunstfenster nimmt, kurz nach den Europawahlen am 26. Mai 2019, Bezug auf Fragen der politischen Polarisierung im digitalen Zeitalter. Gleichzeitig arbeiten Günyol & Kunt mit ikonographischen, kunsthistorischen Motiven, die in ihren Ursprüngen eine wesentliche Frage der Kunst berühren: die nach der Abbildbarkeit unserer Realität.
Ausgangspunkt der Wandarbeit "The Picture Before the Picture" (2019) ist die spielerische Oberfläche des Digitalen: Farbflächen, die an Screens oder auch künstlerische Farbstudien erinnern. Dahinter verbirgt sich, wie oft in dem Werk des Duos, ein bedrohlicher Sachverhalt. Es handelt sich um abstrakte Farbbilder, die bei der Bildsuche im Internet als Platzhalter erscheinen, bevor das endgültige Bild vom Computer geladen wurde. Zuvor haben Günyol & Kunt in die Suchmaske das Wort "Google" eingegeben und jeweils ein weiteres Wort hinzugefügt, das vom Programm vorgeschlagen wurde. Daraus ergab sich die Kombination "Google+Facebook+Twitter+News+Election+Voters+Targeted+Ads+FakeNews" sowie die abstrakte Darstellung in Farbfeldern. "The Picture Before the Picture" nimmt Bezug auf die aktuelle Diskussion um unzulässige Wahlbeeinflussung durch Fake News im Internet. Gleichzeitig verweist das Werk auf die anziehende Komponente digitaler Oberflächen, deren strategischen Absichten oftmals verborgen bleiben und für den Rezipienten nicht als solche lesbar sind.
Im Zentrum des Ausstellungsraumes befindet sich die Skulptur "Mr. Bertelli, you are right. The profile still continues." (2019). Sie nimmt Bezug auf das Janus-Motiv, den allwissenden, doppelgesichtigen Gott der griechischen Mythologie, der vorwärts und rückwärts zugleich blickt. Als künstlerische Referenz dient Günyol & Kunt jedoch kein antikes Portrait des Janus-Kopfes, sondern die futuristische Skulptur "Continuous Profile" des italienischen Bilderhauers Renato Bertelli von 1933, die in Berlin zuletzt vor zehn Jahren im Gropius Bau zu sehen war. Bertelli nahm den Janus-Kopf als Vorbild für ein weltliches Portrait Mussolinis und zeigte den Kopf des Diktators, der sich in alle Richtungen wenden lässt, als absolute Kontrollinstanz. Mit ihrer Skulptur "Mr. Bertelli, you are right. The profile still continues." (2019) reflektieren Günyol & Kunt die problematische Liaison technikbegeisterter Futuristen mit der Ideologie des Faschismus. Günyol & Kunt machen sich diese Verbindung in ihrer neu geschaffenen Skulptur zu eigen, indem sie auf die Fortsetzung dieser Ideologie der totalen Kontrolle und Überwachung in anderen politischen Systemen verweisen.